THE GUIDE the FAST WAY TO DO IT.

1. Quest starts in Santa Maria - right on the beach to shipwrecked pirates. You will find a guy talk with him and inquire about his history...at the end...if you choose the right answer...ask who is him...then he gives to you a weapond...then he tell to you to go till Reykiavic...

2,. Pay atention now...before you go to talk with this guy, prepare all that you needs...

- STOP IN VENICE .- buy the barrel gun drawing from black smit-
- STOP IN BEIRUT - buy the kukril drawing from black smit-
- send your alt to collect 42 metal lv 1 / 42 timber lv 1 ...in brute, dont compound
42 metal lv 2 / 42 timber lv 2..same, dont compound
18 metal lv 3/ 18 metal lv 3... same dont compound.
- STOP IN TRIPOLI - buy the sword drawing there too.

3,. BRING ALL THIS TILL REYKIAVIC. and talk with the guy close to the blacksmith. Give all to him.

4. Now you will be asked to come back later. When, however, is not said. About 12 real time hours. He gives to you a chest and seems one of these rewards- Pure random you cant choice.

a,. 44 Imperial Gold
b,. 4.444 rep points,
c,. 44 rare gold,
d,. 444 special offer vouchers,
e,. 44.444 compressed provisions
f,. 4.444.444 profession exp

5. Go to Nagasaki then enter in the tavern and talk with a guy, go to the docker and talk with Aron. Wait again.

6. Once Aron gives to you the goods bring them to Alexandria to the merchant Haydar at the dock . He ask to you for 10 dates...go to beirut and bring it them to Haydar...now wait again.

7. Go to Athens buy 10 x seafood and give it too.... wait again.

8,. Now bring him 10 x Beef in Tripoli and then to Alexandria.

11. Have you finally can make the beef he wants to do this your waiting to get a receipt for Aron.

let's see what happens next
Last edited by Admin on Thu Apr 07, 2011 2:57 pm; edited 4 times in total
This is far as i know so any extra help will be great.

Start - Santa Maria beach

Rejavik City and talk to weapon dealer

Task 1 - you need now Bambo Gun Drawing ( found at venice Blacksmith ) also known as shock fire gun drawing.

9 level 1 logs
9 level 2 logs
9 level 3 logs

9 level 1 ore (iron ore)
9 level 2 ore (impure mineral)
9 level 3 ore (impure copper ore)

Task 2 -Kukri drawing ( found at Beirut Blacksmith )

24 level 1 logs
24 level 2 logs

24 level 1 ore (iron ore)
24 level 2 ore (impure mineral)

Task 3 -Western Sword Drawing ( found at Tripoli Blacksmith)

9 level 1 logs
9 level 2 logs
9 level 3 logs

9 level 1 ore (iron ore)
9 level 2 ore (impure mineral)
9 level 3 ore (impure copper ore)

Remember not compounded

Go back to rejavik city and speak to weapon dealer hand in the 3 tasks and wait.

Time for waiting is random, but people say 12 hours. I have no idea myself as it about 24 hours since i handed in tasks.

You now recieve a pirate treasure box (cant be opened)

Reward: 4444 rep points, 44 rare gold, 44 imperial gold, 444 special offer vouchers, 44444 compressed provisions or 4444444 profession exp (is what i have heard as prizes)

Only 1 prize at that time, it is random so no choices

Nagaski tavern and talk to Merchant Yusra he is inside the tavern then turn right.

Nagaski dock and talk to sailor Aron

Waiting time again, no idea how long yet

Waiting time again, got told waiting time is random again, 2hrs i also got told.

You get 10 Ambergris (350 load needed) from Aron to take to alexander port

Speak with Haydar the trader on end of dock

Go to Beirut trader and buy 10 dates (250 load needed for goods) then return them to Haydar the trader

Recieve pirate treasure

Go to athens and get 10 sea food (250 load needed) then return to Haydar

Waiting time. I only waited 3 hours

Hand in goods to Haydar

Recieve pirate treasure

Go to Tripoli and get 10 beef from trader the return to Haydar

MORE WAITNG

Recieve pirate treasure

Now you need to wait for receipt to give to Aron, my wait time about 5 hours

Ok now you got the receipt head back to nagaski and give it to Aron

Reward: same as above with 44 rare gold etc etc, my reward this time was the 44444 compressed provs just to prove it is not always the same reward

Now speak to Merchant Yusra in nagaski tavern

Yusra now gives a task to kill 15 goldeneye smugglers and 15 jackal smugglers

Once you kill all ships go to nagaski tavern and talk to Merchant Yusra

Reward: same as before with all the 4s

Yusra says come back tomorrow so i guess it is waiting time

Ok waiting time over, talk with Yusra he will tell you about the sword, now you take a trip to barcalona city and talk with Conquistador Alonzo he on left as you enter city.

He will tell you about his son Alejandro, you need to go talk with him he is in the cave in barcalona subs. Keep to the left as you enter subs and you will find cave. You will have to fight wolves to get to him.

Reward: same as before with 44 rare gold, 44 imperial gold, 44444 compressed provisions etc etc

Pirate treasure

Alejandro will take the holy saber from you.

Now you need to find the 5 treasure chests hidden around the world.

treasure chest list

Hamburg Subs (-299 89) (vikings live there so beware) chest located at other side of map in subs
Lemonos Island (-49 -239)
Corcisca Inland (-48 -239)
Beruit Subs (-197 -75)
Tawain (-163 285)
Pyramid (level 2 108 102)
Bejing City (10 -270)
Tourane (33.4 98.4)
Sicily Inland (-588 1402)

There is no correct order or wrong order to chests

There is waiting time when you open first chest. It says if you try open another that you being greedy

Chests drop random IM stuff so leave spaces or you could lose drop.

Just got told that after you collect first chest you need to go see the sailor again on Santa maria

Sailor tells you to come back later but i got told this is the end of it.


1,. Start again at Santa Maria, talk with the NPC
2 .- Go to reykiavic and talk with the same NPC from part 1
3.- Go to Athens suburb, close the mines is the next NPC he gives to you 10 lv 2 metal to bring to Suez
4.- Go To Suez and give to the Merchant Akay.
5.- Merchant Akay gives to you fist reward...then ask to you to bring him 5 olives from Aden...but remember....needs to wait till he accept them.
6.- When he take it he ask for 10 corns...but need to wait till you can submit...the corns are in mozambique.
7,. Submit and wait again, now needs 10 wheat from semarang...
8,. Give to him the wheat and then he ask to you to go back to Athens and talk with the NPC Phileas, in the suburb. Talk with him, he ask to go to seville to talk with the miner, close the suburbs...but fist collect 30 metals lv 1 and 30 lv 2 dont compound...when you get 30 lv 1 i sugest to you to go to Genoa suburbs to complete the the 30 lv 2 more fast.

9,. Whit 30 lv 1+30 lv 2 metals not compounded buy a low pickage and some sp potions, then sail to seville, talk with the miner, he get the metals and give to you one 24 H . MINING PASSWORD. - If you dont have in profesion skill the metal mine knowledge learned ask in guild to get 15 Tungsten...if you have learned the metal mine knowledge go to the mine and find METAL MINES they give to you the new materials, tugnsten, fine iron, fine coper, tin ore and nikel.

10 bring the 15 tugnsten back to Phileas in athens. wait 24 hours real time, and he gives to you the metal for the Reykiavic NPc. Give to him and you complete the task. He gives to you one ticket to exchange for a gift in hamburg

11.- Go to Hamburg and get your rewards...check the next post.
REWARDS...
In hamburg city find this NPC.
1st REWARDS...FROM THE CUPPON, A PERMANENT WEAPOND CHARM
As you can see, in the picture, the fist one is this falchion charm...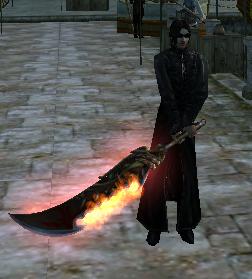 the second one is sword charm....dont have a picture for the moment.
the 3rd one...becarefull as you can see shows the falchion like a sword.
the 4 rd one...Axe.....
the 5 th one... becarefull as you can see shows the falchion like an axe
the 6 th one ....gun
the 7 th one....becarefull as you can see shows the falchion like a gun.
2ND REWARDS...FORM THE TREASURES....YOU WILL GET 11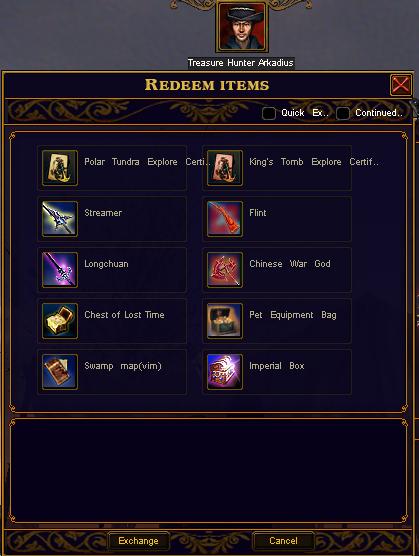 polar tundra certificate...for make polar tundra instance, but is a time item...cost 10 treasures.
Kings tomb certificate....same for kT instance.
Streamer...a bad falchion weapond...with existence time....i think is the worse item. cost 6 treasures
Flint...same, on gun...
Longchuan...same, sword.
Chinese god of war...same axe.
Chest of lost time....i supose there are some options, planting cards, obsidians...not sure we get one in the past. Cost 5 treasures.
Swamp map...for enter in HI instance, even elite mode. cost only 2 treasures.
20 imperial box...cost 1 treasure.


Similar topics
---
Permissions in this forum:
You
cannot
reply to topics in this forum