To do the discos you can make 2 things, use electronic book...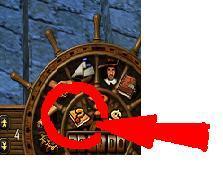 when you click on it then new window opened , then option 2 discoveris distribuition. another window, choose the level and later click over the disco´s name and the ships go to it.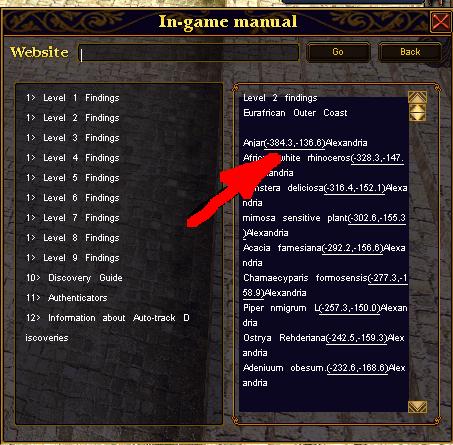 OR AUTOFINDING...
1. clik on it
2 Introduce the numbers, fist was X and second Y and then see if the numbers are positives or negatives ( - )
3 Click on the little yellow point under the words.
LEVEL 1
Goal: To train to maneuver level 11
Requirements: Maneuver lvl 1 and above
Ship: lvl 1
Telescope: none
Suggested number of sailors: 5
Med. Sea
1. [ -514.5 -352.6 ] Pangolin
2. [ -444.9 -333.6 ] Liverwort
3. [ -315.3 -240.0 ] termite
4. [ -381.8 -234.2 ] snail
5. [ -414.9 -153.2 ] City of Aleppo
6. [ -401.1 -140.0 ] clove
7. [ -366.8 -149.4 ] Hatshepsut
8. [ -361.1 -149.1 ] North African Hartebeest
9. [ -352.2 -148.0 ] Temple of Abu Simbel
10. [ -347.7 -149.7 ] Thebes City
11. [ -334.3 -150.6 ] Bact camel
12. [ -229.8 -156.9 ] Black Rhinoceros
13. [ -212.5 -156.3 ] African Elephant
14. [ -149.9 -127.6 ] Giraffe
15. [ -109.3 -146.4 ] White Rhinoceros
16. [ -108.6 -151.3 ] African Ostrich
western coast of Africa from Seville to Luanda
17. [ -3.3 -201.9 ] Sable Antelope
18. [ -19.7 -248.4 ] Baboon
19. [ 18.0 -268.0 ] Gazelle = Hunter's Gazelle hard one
20. [ 117.5 -248.3 ] Gorilla also difficult
21. [ 432.3 -9.8 ] B&W Colobus
22. [ 455.0 92.7 ] Welwitschia
23. [ 454.7 159.5 ] Blue Wildebeest
24. [ 82.5 310.2 ] Elephant fish
along the western Europe coastline from Seville to Hamburg
25. [ -48.3 503.8 ] Rafflesia
26. [ 331.3 -137.7 ] Hippopotamus
27. [ 321.2 -151.5 ] Euphorbia tirucalli
28. [ 326.8 -260.4 ] Christ in Tomar
29. [ 274.0 -542.8 ] Cockroach
30. [ 82.6 -567.9 ] Wind Mill
31. [ 22.6 -605.6 ] Aachen Cathedral
32. [ 253.1 -371.9 ] Golden Plover = European Oyster Catcher
33. [ 168.1 -286.9 ] Atamira Cave
34. [ 105.4 -343.6 ] Auvergne Volcano
35. [ 24.3 -370.6 ] Eisriesenwalt Cave
Med. Sea
36. [ -83.1 -272.0 ] Vesuvius = Etna
37. [ -108.6 -268.2 ] Violet
38. [ -65.6 -407.1 ] European Gerbil
39. [-136.9 -348.3 ] Booby = boobie = Bonito bird
40. [ -223.2 -252.7 ] Pansy
41. [ -230.9 -274.1 ] Olympia
42. [ -224.5 265.9 ] colossus of rhodes
43. [ -228.1 -266.5 ] Apollo Temple right under Athens
**End of Level 1**
LEVEL 2
Goals: Train to maneuver lvl 21
Requirements: Maneuverability: Lvl 11 or above
Ship: Lvl 2
Telescope: Lvl 1 - "Telescope" (that is the name of the scope)
Suggested Number of Sailors: 5
From Constantiople to all of the Med. Sea
1. [ -307.1 -307.3 ] Boyana Church
2. [ -305.1 -306.9 ] Bulgaria Rose
3. [ -404.1 -221.6 ] Pamukkale Spring Pool
4. [ -441.2 -222.0 ] Blue Peacock = Pavo Cristatus
5. [ -430.9 -189.6 ] Baalbek
6. [ -420.8 -166.7 ] Davidia involucrata
7. [ -400.9 -136.7 ] Hibiscus
8. [ -382.7 -135.8 ] Anjar
9. [ -235.5 -262.4 ] Holy Mtn Athos
10. [ -226.4 -255.8 ] European Shrike
11. [ -241.1 -246.9 ] Sea Sturgeon
12. [ -224.3 -266.0 ] Drottningholm
13. [ -167.7 -309.5 ] Acrocarpus frax. Wight
14. [ -126.9 -349.9 ] European Toad
15. [ -94.3 -373.3 ] Budapest Palace
16. [ -88.0 -386.5 ] European Horn Tortoise
17. [ -55.3 -375.2 ] Colloseum of Rome
18. [ -138.7 -297.1 ] Holly = ilex purpurea hassk
19. [ -118.8 -293.9 ] Selaginella dilecatula = short lived chrysanthemum
20. [ -89.0 -305.8 ] leaning Tower of Pisa
21. [ -54.8 -324.9 ] statue of David
22. [ 10.9 -327.3 ] Peregrine Falcon = Wandering Falcon
23. [ 54.6 -350.4 ] Big Brown Bear
24. [ 81.6 -344.9 ] Hare
25. [ 96.8 -342.9 ] Hedgehog
26. [ 117.3 -331.9 ] Burgos Cathedral
27. [ 119.5 -323.8 ] Pine Marten
28. [ 120.1 -323.3 ] Squirrel
29. [ 126.8 -294.2 ] Sloth = Sloth Bear
30. [ 146.0 -305.8 ] Marmot
31. [ 191.5 -221.3 ] African hound = African Hyena
32. [ -40.5 -176.2 ] Baoab = Adansonia digitata
Seville
33. [ 276.7 -212.3 ] Anaconda = Python
Madeira
34. [ 457.0 -200.0 ] Blue Whale -- along trade route Madeira <-> Lisbon
Spain - Amsterdam
35. [ 198.5 -421.4 ] Amiens Cathedral
36. [ 219.8 -456.2 ] Archangel Temple
37. [ 146.2 -505.7 ] Notre Dame de Paris
38. [ 78.7 -560.4 ] Amsterdam Albatross
39. [ 156.4 -540.4 ] Loblolly = Pinus taeda Linn
40. [ 158.6 -543.7 ] Giant's Causeway
41. [ 156.7 -554.4 ] Durham Castle/Cath
42. [ 180.3 -625.7 ] Baeumaris Castle (/sp)
43. [ 281.1 -622.2 ] Arch. Ens. Bend Boyne
Reykjavik
44. [ 465.5 -814.1 ] Strokker Geyser
45. [ 475.0 -820.6 ] White Falcon = Gyrfalcon
Norway West coast
46. [ -84.6 -935.3 ] Arctic fox
47. [ -83.0 -921.7 ] Arctic Wolf
48. [ -78.7 -908.3 ] Arctic Spinal Whale = bowhead
49. [ -64.9 -895.2 ] Polar Bear
50. [ -37.2 -867.0 ] Arctic Tern
51. [ 69.8 -763.4 ] Arctic Seagull
52. [ -491.9 644.4 ] Amphitheatre
Gulf of Aden to Quanzhou
53. [ -1007.3 104.1 ] E. Indian Wild Boar
54. [ -1677.2 24.3 ] Elaeocarpus apiculatus
55. [ -1688.5 14.3 ] Coleus
56. [ -386.8 -135.1 ] Khaya senegalensis
END OF LEVEL 2

enjotabe

Admin




Posts

: 36


Join date

: 2009-09-18


Age

: 50


Location

: Tavernes



Level 2.5


Goal: To Train Maeuverability to Level 24
Requirements: Maneuverability: Lvl 21 and above
Ship: Lvl 3
Telescope: Lvl 2 -"Pilot"

LEVEL 2.5

North African Coast
1. [ -368.7 -150.1 ] Chameleon
2. [ -343.9 -150.3 ] Egyptian cobra = Naja haje
3. [ -343.2 -151.3 ] Honey Monkey = Slow Loris
4. [ -328.3 -149.7 ] White Rhinoceros
5. [ -316.3 -152.8 ] Monstera deliciosa
6. [ -302.4 -157.4 ] mimosa sensitive
7. [ -290.4 -157.5 ] Acacia farnesiana
8. [ -277.9 -157.1 ] Chamaecyparis formosensis
9. [ -256.8 -154.5 ] Pepper Tree = Piper nmigrum
10. [ -242.1 -154.4 ] Ostrya Rehderiana
11. [ -235.0 -155.5 ] Desert Rose = Adeniuum obesum

Venice/Athens
12. [ -242.9 -213.8 ] Lithops Lesliei Subsp
13. [ -227.1 -224.5 ] Mediterranean Sea Leopard
14. [ -213.5 -243.4 ] European Beech
15. [ -198.8 -251.9 ] Pomegranate = guava
16. [ -181.1 -282.5 ] Quercus Var. Blume
17. [ -177.9 -288.4 ] metasequoia
18. [ -171.9 -303.0 ] Water Lily = canDock
19. [ -166.4 -312.4 ] Yucca filamemtosa
20. [ -158.1 -327.0 ] Jasmine

East of Oslo
21. [ -26.3 -708.7 ] Rock drawings of Alta

Northern England
22. [ 207.1 -670.6 ] Walrus

Dakar, Africa
23. [ 453.2 168.3 ] Angola Black-faced Antelope

Accra, Africa
24. [ 154.2 307.4 ] Royal Palaces of Aborney -- hard one. Come back after you level up a bit.

Mozambique
25. [ -475.9 572.2 ] N'gorongoro Crater

Mogadishu
26. [ -617.1 342.1 ] East African Hartebeest
27. [ -859.7 182.2 ] Humpback Whale -- on the way from Mogadishu to Bombay

Quanzhou
28. [ -1748.3 -42.6 ] LitChi Chinensis Sonn.cv

END OF LEVEL 2.5

enjotabe

Admin




Posts

: 36


Join date

: 2009-09-18


Age

: 50


Location

: Tavernes



LEVEL 3

Goal: Train to Maneuverability lvl 31

Requirements: Maneuverability: Lvl 24 and above
Ship: Lvl 3
Telescope: Lvl 2- "Pilot"

Suggested Number of Sailors: 10

North of Seville
1. [ 44.8 -800.0 ] Musk Ox = o.moschatus -- Norway
2. [ -33.2 -698.2 ] Maelstrom whirlpool
3. [ 17.9 -651.8 ] Moose
4. [ 19.1 -640.5 ] Cedrus deodara
5. [ 69.4 -579.9 ] Euro. Horse Chestnut = aesculushippocastanum
6. [ 76.3 -575.7 ] Tulip -- Amsterdam
7. [ 77.8 -563.1 ] Defence line of Amsterdam
8. [ 216.4 -554.5 ] Parashorea Chinensis
9. [ 271.9 -542.4 ] Tiawania flousiana Gaussen -- Ireland
10. [ 225.2 -454.5 ] Bird of Paradise = Strelitzia
11. [ 223.8 -408.4 ] Father-Lasher = Cottos Pygmaeus -- open sea west of Bordeaux
12. [ 196.6 -401.0 ] Acersaccharum Marsh
13. [ 193.8 -378.5 ] Michelle's Eye Butterfly
14. [ 317.8 -372.2 ] Pond limoloid = Lepidurus Packardi
15. [ 314.3 -312.0 ] Owl
16. [ 354.9 -299.5 ] Great White Shark

Med. Sea Area
17. [ -41.3 -389.5 ] Pantheon
18. [ -16.5 -350.0 ] Schaus Swallowtail Butterfly
19. [ -148.8 -336.0 ] European boar = Warthog
20. [ -115.9 -331.4 ] Green woodpecker
21. [ -165.1 -318.0 ] Red Deer
22. [ -172.0 -300.2 ] Swift
23. [ -198.0 -280.8 ] Fish ermine = Marten
24. [ -226.3 -264.8 ] Ericadarleyensis
25. [ -222.3 -243.6 ] Pinus Sylvestris
26. [ -301.7 -324.6 ] Erechtheum -- south of Constantiople
27. [ -514.7 -327.0 ] Cave Monastery -- Black Sea
28. [ -430.8 -194.5 ] Arabic Hartebeest
29. [ -316.6 -152.7 ] Crocodile Temple
30. [ -380.3 -141.6 ] Sweep Tail Hedgehog = Artherurus

South of Seville to Cape Hope
31. [ 447.2 -158.9 ] Dugong
32. [ 351.2 -94.0 ] Pharoah Palace
33. [ 408.8 -77.6 ] Red Salmon = Sockeye
34. [ 438.6 3.3 ] Springbok
35. [ 319.1 317.8 ] Megapodes = Ostrich Leally
36. [ 260.4 320.1 ] Warthog
37. [ 209.8 319.3 ] Ashanti Trad. Bldgs.
38. [ 123.8 344.4 ] Cichlid
39. [ 0.0 357.0 ] ThaumatococcusdeneilliiBenth
40. [ 5.7 379.0 ] Rubber Plant = ficus elastica
41. [ -14.5 440.3 ] Palm
42. [ -30.4 453.7 ] Phoenixdactylifera
43. [ -34.4 474.0 ] Magnolia coco
44. [ -174.3 987.8 ] Nambi Desert

Afro-Asian Coastlines
45. [ -411.0 762.3 ] Balancing Rocks of Matopo
46. [ -588.4 570.0 ] Architeuthis = Giant cuttlefish -- Top of Madagascar in the open water
47. [ -476.2 571.4 ] Lake Natron
48. [ -476.3 519.8 ] Weaving Bird = Ploceus
49. [ -490.1 461.7 ] Aye-Aye
50. [ -623.3 302.2 ] Ethiopian Coyote = Wolf
51. [ -738.5 176.2 ] Sea horse -- along trade route Muscat <-> Bombay
52. [ -959.9 106.9 ] Dolphin -- or -966.1 108.8
53. [ -1429.5 449.8 ] Giant rosebush
54. [ -1495.7 436.2 ] Banyan
55. [ -1509.6 448.8 ] Hibiscus
56. [ -1705.7 537.7 ] Javanese Rhinoceros – east of Semarang
57. [ -1592.3 349.3 ] Eucalyptus robusta
58. [ -1610.0 326.3 ] Convallaria majalis
59. [ -1624.0 316.6 ] Campsis Grandiflord
60. [ -1656.6 301.2 ] Victoria cruziana Orbign – northern shore of the island north of Semarang
61. [ -1587.9 212.4 ] Glyptostrobus pensilis
62. [ -1591.9 187.7 ] Calanthe hancockii Rolfe
63. [ -1620.0 32.7 ] Cocoa-tree – north of Tourane
64. [ -1638.0 28.1 ] Phoenix rorbelenni = Traveller's-Tree
65. [ -1668.0 25.4 ] Panax = ginseng
66. [ -1683.2 16.0 ] Common Red-stem Fig
67. [ -1780.5 86.8 ] Adder = daboia russelli – island east of Tourane

Afro-Asian Island groups
68. [ -1760.4 37.2 ] Camellia
69. [ -1756.1 -1.4 ] Night-blooming cereus
70. [ -1761.9 -11.4 ] Melissa affectionalis = pitcher plant
71. [ -1770.9 -23.2 ] Cornus alba = liriodendron
72. [ -1740.6 -24.5 ] Carpinus putoensis
73. [ -1763.6 -61.0 ] gingko
74. [ -1766.2 -78.6 ] phyllostachus heterocycla
75. [ -1768.6 -89.9 ] Jasminum multiflorum
76. [ -1773.5 -105.4 ] Peony
77. [ -1769.8 -125.7 ] Sweet-scented osmanthus
78. [ -1759.3 -164.3 ] Papaverrhoeas
79. [ -1776.0 -314.0 ] Soft-shell tortoise

North of Madagascar
80. [ -2010.0 -222.1 ] Cherry blossom
81. [ -2030.1 -234.1 ] Olea europaea = Olive growing
82. [ -2090.0 -240.6 ] Teak

E N D of L e v e l 3

enjotabe

Admin




Posts

: 36


Join date

: 2009-09-18


Age

: 50


Location

: Tavernes



Level 4 Discoveries


Goal: Train to Maneuverability LvL 41

Requirements: Maneuverability : LvL 31 and above
Ship : LvL 4
Telescope : LvL 3 – "Guerrilla"



Suggested number of sailors : 10

Med. Sea -- Tripoli to Alexander
1. [ -100.0 -153.8 ] Honey Badger
2. [ -331.0 -150.2 ] Small Lemur
3. [ -349.7 -147.7 ] Dromedary Camel = single hump
4. [ -372.4 -150.6 ] Nile crocodile
5. [ -372.5 -150.0 ] African reindeer
6. [ -386.8 -134.2 ] Painted Churches in the Troodos

Black Sea
7. [ -512.1 -358.2 ] Bagrati Cathedral
8. [ -487.4 -376.3 ] Bird of Paradise = Kingbird

Crete / Athens / Venice
9. [ -244.1 -214.6 ] Gray Goose -- or -245, -206
10. [ -229.8 -257.2 ] Ruins of the Temple of Artemis
11. [ -216.8 -236.8 ] Elk
12. [ -219.9 -269.1 ] European Lumpfish
13. [ -167.7 -310.0 ] Guineafowl = Keet
14. [ -46.4 -394.0 ] South European Lynx = lynx pardinus
15. [ -129.7 -291.6 ] Arabic Hartebeest = Ovis Musimons

Barcelona
16. [ 179.3 -271.6 ] Tower of Babel = Belem

Reykjavik
17. [ 1.0 -827.0 ] Whistling (small) Swan
18. [ 478.1 -848.3 ] Surtsey
19. [ -35.5 679.8 ] South African Springbok = Gazelle

Madagascar
20. [ -542.7 758.8 ] Dipteronia Sinensis Oliv -- or -544.4 754.1
21. [ -526.4 781.3 ] Calligonum ebi-nricum Lvan ex Y.D.Saskov
22. [ -518.4 808.5 ] Aconitum Racemulosum Var.gran-dibracteolatum W.T.Wang
23. [ -518.7 828.2 ] Primula sonchifolia Franch --or -520.0 826.7
24. [ -560.4 839.3 ] Primula latisecta -- or -516.3 838.0
25. [ -552.0 842.0 ] Fritillaria roylei Hook
26. [ -605.0 824.0 ] Tacca integrifolia
27. [ -599.0 837.0 ] Umus chenmoui Cheng
28. [ -576.9 832.1 ] Rhododendron cyancorpum (franch.)
29. [ -613.5 798.6 ] Hopea Hainanensis Merr .et Chun
30. [ -618.1 776.8 ] Terminalia Myriocarpa Van Huerk et Muell
31. [ -626.6 756.1 ] Cyclocarya Paliurus = Batal

Mozambique
32. [ -410.5 803.7 ] Fraxinus hupehensis Ch'u
33. [ -409.3 759.2 ] Brachystachyum densiflorum (Reudle) Keng
34. [ -414.4 742.8 ] Thmus mandschuricus Ronn.
35. [ -418.2 712.4 ] Eucommia ulmoides Oliver
36. [ -474.8 678.3 ] Kingdonia uniflora Balf .f .et
37. [ -481.0 660.7 ] Giant vine = grape vine
38. [ -492.5 641.9 ] Passiflora edulis
39. [ -485.7 620.9 ] Asian Water (wild) buffalo
40. [ -482.2 598.8 ] Famgipani = Temple tree
41. [ -483.8 491.8 ] White-collared mangabey (White neck White face monkey)

South of Mogadishu
42. [ -569.0 391.7 ] Coin Leopard

Aden
43. [ -538.3 210.6 ] Old Walled City of Shibam

Muscat
44. [ -788.0 9.4 ] Bahla fort

Basra
45. [ -637.3 -122.4 ] Persepolis
46. [ -657.0 -111.0 ] Giant gekko = lizard
47. [ -896.9 -3.0 ] Hist Centers of Buhkara

Bombay
48. [ -958.6 58.6 ] Black Leaf Monkey = Presbytis francoisi -- north of Bombay
49. [ -1007.4 107.0 ] Indian (malayan) Tapir -- on the side of Bombay city
50. [ -1006.0 112.6 ] Elephanta Caves
51. [ -1022.3 140.3 ] Douc langur (White buttock leaf monkey)
52. [ -1039.1 175.8 ] Asian White Tiger
53. [ -1051.4 195.7 ] Macaque (mulatta)

Sri Lanka
54. [ -1129.5 210.6 ] Ajanta Caves
55. [ -1155.5 157.6 ] Ellora Caves

Tourane
56. [ -1461.0 490.0 ] Malayan Tapir
57. [ -1512.5 470.1 ] Silka (spotted) Deer
58. [ -1513.7 467.1 ] Lowland Anoa = water buffalo
59. [ -1512.8 458.1 ] Red-breasted Parakeet = parrot
60. [ -1503.8 441.8 ] Spotted civet = zibet
61. [ -1473.1 400.0 ] Dendrolagus = D.goodfelloui
62. [ -1464.2 387.7 ] Malabar pied (Spotted crest) hornbill
63. [ -1555.2 239.7 ] Bengal Tiger
64. [ -1569.1 233.7 ] Assamese Macaque = Tarsier
65. [ -1579.2 224.7 ] Asiatic Elephant
66. [ -1590.8 201.7 ] Chinese (Tusked) River-deer
67. [ -1575.0 128.0 ] Snub-noes Monkey = Rhinopithecusavunculus
68. [ -1529.5 78.0 ] White lip Deer
69. [ -1529.6 60.9 ] White-cheeked Gibbon
70. [ -1578.6 67.7 ] Cordyceps
71. [ -1596.6 89.2 ] Hainan Panolia (Hill) Deer

Quanzhou
72. [ -1592.0 54.0 ] Echinocactus grusonii
73. [ -1603.1 41.1 ] Antiaris tocicaria = toxicaria
74. [ -1645.9 27.1 ] Guilan landscape
75. [ -1667.8 24.3 ] Glycyrrhiza uralensis Fisch.
76. [ -1678.9 19.9 ] Ficus Variegata var.garciae (Elm) Corner
77. [ -1690.9 11.6 ] Paripigynum funingense Tsiang
78. [ -1707.4 8.4 ] Poncirus Polandra SQ.Ding
79. [ -1733.0 104.8 ] Panzena alashanica
80. [ -1741.2 95.5 ] Loach
81. [ -1758.2 81.1 ] Rhododendronchrysanthum
82. [ -1771.1 82.0 ] Amorphophallus titanium Becc.
83. [ -1796.1 102.0 ] Pinguicula alpina L
84. [ -1788.8 118.9 ] Heracleum Kingdoni Wolff
85. [ -1785.4 128.2 ] Tsoongiodendron odorum Chun
86. [ -1794.0 140.9 ] Michelia foveolata Merr. Ex Dandy

Island of south Taiwan
87. [ -1780.0 160.0 ] Euchresta tubulosa Dunn.
88. [ -1780.8 182.0 ] Davidia involucrata var.vilmoriniana
89. [ -1783.6 209.9 ] Cerbera manghas L

Quanzhou / Taiwan / Zhigu
90. [ -1712.6 -0.4 ] Clouded Leopard
91. [ -1725.0 -10.8 ] Fargesia ferax (Keng) Yi
92. [ -1732.0 -16.0 ] Liriodendron Chinese
93. [ -1748.8 -39.5 ] China giant salamander
94. [ -1749.0 -44.0 ] Polystichum Omeiense
95. [ -1759.3 -53.6 ] Tanakea omeiensis Nakai
96. [ -1764.7 -69.8 ] Winnow Crocodile = Chinese alligator
97. [ -1775.6 24.3 ] Magnolia officinalis subsp.biloba (Rehd)
98. [ -1784.2 -10.9 ] Ammmopiptanthus nanus
99. [ -1766.0 -20.4 ] Yellow-bellied (breast) tragopan
100. [ -1757.5 -4.0 ] Palaquium formosanum Hayata
101. [ -1752.5 7.8 ] Paeonia suffruticosa var.Spontanea Rehd
102. [ -1755.0 29.1 ] Tiawan macaque (monkey)
103. [ -1768.5 -96.6 ] South China Tiger
104. [ -1782.8 -94.8 ] White fin (flag) dolphin
105. [ -1772.4 -115.7 ] China Three Gorges
106. [ -1769.3 -134.5 ] Terracotta Warriors
107. [ -1773.4 -138.9 ] Adiantum Reniformevar
108. [ -1769.5 -150.0 ] Neolepisorus Truncatus Ching et PS Wang
109. [ -1763.3 -159.3 ] Magnolia cylindrca Wils
110. [ -1769.2 -173.1 ] Lu Mountain
111. [ -1759.6 -186.8 ] Aglaomorrha Coromans
112. [ -1753.7 -197.1 ] Platycerium Wallichii Hook

Zhigu / Seoul
113. [ -1753.8 -209.8 ] Neocheriopteris Palmatopedata
114. [ -1760.8 -218.0 ] Utricularia Salwinensis Hand.
115. [ -1771.9 -227.0 ] Alsophilia spinulosa (Wall Ex. Hook)
116. [ -1782.2 -238.1 ] Neolepisorus ovatus f.doryopteris
117. [ -1782.3 -244.5 ] Mount Tai
118. [ -1777.9 -251.1 ] Rhaphidophora Decursiva
119. [ -1766.8 -253.5 ] Abies Beshanzuensis
120. [ -1758.5 -252.4 ] Ephedra rhytidosperma (Lepidosperma)
121. [ -1747.7 -245.2 ] Kateleeria davidiana var
122. [ -1736.5 -239.3 ] Cycas Panzhihuaensis
123. [ -1730.1 -244.1 ] Cephalotaxus oliveri Mast
124. [ -1719.0 -258.0 ] Populus parnirica korn.
125. [ -1735.8 -281.0 ] Wolverine (Glutton)
126. [ -1748.0 -285.0 ] Golden Pheasant (Red breasted chicken)
131. [ -1771.0 -308.0 ] Cupressus gigantea
127. [ -1780.0 -313.4 ] Pinus sylvestris var. sylvestriformis
128. [ -1781.2 -299.8 ] Red (lesser) Panda
129. [ -1779.1 -292.9 ] Great (giant) bustard
130. [ -1778.9 -288.3 ] Tsuga Longibracteata
132. [ -1796.7 -284.8 ] Pseudolarix amabilis (Nelson)Rehd
133. [ -1819.6 -266.0 ] Torreya Jackii Chun
134. [ -1816.5 -262.6 ] Keteleeria Pubescens
135. [ -1820.1 -252.5 ] Yew(taxus chinensis (piger) rehd.)
136. [ -1829.5 -246.6 ] Keteleeria calcarea
137. [ -1840.5 -255.8 ] Keteleeria Xerophila Hsueh
138. [ -1841.7 -239.2 ] Pseudotsuga Brevifolia
139. [ -1844.8 -223.3 ] Cycad (Sago palm.Cycas revolutaThunb.
140. [ -1850.2 -218.9 ] Thuja koraiensis Nakai

Edo / Nagasaki
141. [ -1910.0 -145.0 ] Red-crowned (White) crane
142. [ -1929.8 -152.4 ] Bush Dog = Forest hound
143. [ -1935.8 -340.8 ] Abies Ziyuanensis
144. [ -1955.3 -348.2 ] Snow Leopard
145. [ -2014.8 -391.1 ] Siberian White crane
146. [ -2037.1 -400.8 ] Pinus Sylvestris var. mongolica
147. [ -2067.7 -487.3 ] Picea obovata Leded.
148. [ -2078.0 -511.7 ] Pinus Takahasii
149. [ -2098.8 -497.8 ] Picea brachytylavar. Complanata.
150. [ -2094.5 -274.8 ] Mount Fuji = Fujiyama
151. [ -1949.0 -27.5 ] Harbor (Spotted) Seal -- along a player-trade route


END of Level 4

enjotabe

Admin




Posts

: 36


Join date

: 2009-09-18


Age

: 50


Location

: Tavernes



LEVEL 5


Goal: Train to Maneuverability LvL 51

Requirements: Maneuverability : LvL 41 and above
Ship : LvL 5
Telescope : LvL 4 – "Look Over"


Suggested number of sailors : 10 - 15


Coordinates

Near Oslo
1. [ 3.9 -699.9 ] Urnes Stave Church
2. [ -32.4 -697.5 ] Hanseatic City of Lubeck
3. [ -38.6 -647.5 ] Norway Firth

London / Bordeaux
4. [ 157.2 -585.7 ] Hadrian's Wall
5. [ 173.3 -592.7 ] St. Klida Island
6. [ 220.6 -456.6 ] Palace and Park of Versailles
7. [ 211.0 453.7 ] Fontainebleau
8. [ 204.8 -447.0 ] Pont du Gard
9. [ 198.9 -420.7 ] Venus de Milo

Genoa / Sicily / Venice
10. [ -56.1 -324.2 ] Carthage
11. [ -80.8 -271.0 ] Temple of Neptune
12. [ -64.5 -361.6 ] Florence Cathedral
13. [ -55.1 -406.8 ] Pilgrimage Church of Weis

Athens / Alexander
14. [ -231.0 -274.6 ] Mausoleum of Halicarnassus
15. [ -286.0 -309.4 ] Monastary of Horezu
16. [ -281.4 -282.2 ] Ancient City of nessebar
17. [ -378.3 -147.8 ] Pharos Lighthouse
18. [ -331.6 -150.4 ] Statue of Agamemnon

South of Mozambique
19. [ -414.0 747.6 ] Great Zimbabwe Natl Monument

South of Mogadishu
20. [ -625.4 287.5 ] Cheetah = Leopard

Near Muscat
21. [ -794.4 36.0 ] "Sun Temple, Konarak"

Basra
22. [ -614.8 -93.1 ] Ziggurat of King Urnammu
23. [ -624.9 -112.7 ] Ancient City of Capra

Bombay
24. [ -1060.4 215.4 ] Moenjodaro

Sri Lanka
25. [ -1129.9 287.9 ] Gal Vihara Buddha
26. [ -1120.3 212.9 ] Indian Rhinoceros
27. [ -1190.9 70.1 ] Katmandu Valley
28. [ -1548.9 498.9 ] Agapetes Lacei Craib

Semarang
29. [ -1589.7 504.4 ] Astilboides tabularis (Hemsl.) Engl.
30. [ -1568.1 557.3 ] Kmeria septentrionalis Dandy

Malacca
31. [ -1489.6 435.1 ] Green Peacock = fowl
32. [ -1481.1 416.6 ] Komodo Dragon
33. [ -1439.0 242.2 ] Theptharo Lagoon Beach
34. [ -1445.3 212.0 ] Hist. City of Ayutthaya
35. [ -1460.6 204.6 ] Angkor Wat

Tourane
36. [ -1565.5 109.1 ] Proboscis Monkey = Macaca cyclopsis
37. [ -1538.1 90.6 ] Heracleum Scabridium
38. [ -1542.2 98.5 ] Boschniakia rossica
39. [ -1527.3 72.1 ] Primula sinensis Sabine ex Lindl
40. [ -1534.2 52.9 ] Mogao Caves
41. [ -1570.6 80.5 ] Calanthe hancockii Rolfe
42. [ -1574.4 87.9 ] Four Claws Tortoise

Quanzhou
43. [ -1588.6 60.0 ] Golden monkey
44. [ -1623.6 30.1 ] Black deer = muntjack
45. [ -1728.2 -12.8 ] Mazu Temple
46. [ -1739.9 -22.7 ] Jiuzhaigou Valley
47. [ -1748.0 -43.4 ] Couple Tree
48. [ -1762.5 -60.0 ] Mane Antelope = capricornicus Sumtraensis

Zhigu
49. [ -1770.1 -122.4 ] Giant (great) Panda
50. [ -1758.5 -168.3 ] Giant Salamander
51. [ -1718.1 -264.7 ] Cypripedium fargesii Franch
52. [ -1732.0 -280.4 ] Rhoiptelea Chiliantha Deils et Hand
53. [ -1755.3 -288.4 ] Eastern White Crane(stork)
54. [ -1765.3 -299.0 ] Great Wall of China
55. [ -1774.1 -314.2 ] Chengde Imperial Summer Resort
56. [ -1779.9 -300.9 ] Siberian (Northeastern) Tiger
57. [ -1790.1 -280.2 ] Black-necked Crane

Seoul
58. [ -1803.8 -289.1 ] Phellodendron amurense Rupr.
59. [ -1835.8 -249.2 ] Corylus chinensis Franch
60. [ -1849.7 -198.7 ] Calophyllum inophyllum L.r
61. [ -1872.8 -194.1 ] Magnolia officinalis Rehd.et Wils.
62. [ -1889.6 -207.4 ] Parakmeria Lotungensis = Chun et. C.Tsoong -- east of Nagasaki
63. [ -1895.0 -231.8 ] Rhododendron nitidulum var.omei-ense
64. [ -1891.4 -242.2 ] Ligusticum involucratum Franch.
65. [ -1884.2 -262.8 ] Cypripedium debile Reichb.f
66. [ -1877.9 -271.3 ] Cymbidium macrorhizum Lindl
67. [ -1868.1 -296.8 ] Speirantha gardenii (Hook) Bail
68. [ -1884.1 -300.0 ] Acanthopanax senticosus = manyprickle
69. [ -1911.1 -316.8 ] Pinus Sibirica
70. [ -1927.9 -326.9 ] "Magnolia sargentiana Rehd, et wils"
71. [ -1935.8 -338.4 ] Dysosma versipellis (Hance) M.Cheng
72. [ -2056.5 -428.1 ] Adies sibirica Ledeb

Edo
73. [ -2098.8 -260.6 ] Kinkakuji Temple
74. [ -2043.9 -243.4 ] Himeji-jo
75. [ -1988.4 -219.7 ] Elaeagnus molis Didis.
76. [ -1983.5 -203.8 ] Hist. Monuments of Ancient Kyoto
77. [ -1937.5 -206.6 ] Hist. Monuments in the Horyu-ji Area
78. [ -1956.0 -220.5 ] Gynocardia odorata

Nagasaki
79. [ -1940.4 -215.0 ] Juglans mandshurica Maxim.
80. [ -1946.9 -194.9 ] Ryukyu Flying Fox
81. [ -1925.5 -209.4 ] Hippolytia alashanensis (Ling) Shih
82. [ -1917.0 -208.6 ] Mangrove
83. [ -1903.8 -206.2 ] Toona ciliata Roem
84. [ -1892.5 -193.2 ] leix Maximowicaiana Loes.
85. [ -1899.9 -188.9 ] Cercidiphyllum Japonicum Sieb.et Zucc
86. [ -1903.1 -173.7 ] Calanthe fimbriata Franch.
87. [ -1900.4 -165.6 ] Hernandia sonora L.
88. [ -1910.9 -145.4 ] Longan
89. [ -1924.6 -145.5 ] Euptelea pleiospermum
90. [ -1929.8 -168.3 ] Nouelia insignis
91. [ -1935.1 -186.8 ] Cypripedium henryi Rolfe.

Edo
92. [ -1951.1 -238.9 ] Walnut = Juglans regia L.
93. [ -1963.8 -239.6 ] Cracaena cambodania Pierre ex Gagnep
94. [ -1975.0 -243.9 ] Paramichelia bailloni(Pierre)Hu.
95. [ -1983.8 -266.2 ] Stichopus tremulus
96. [ -2000.0 -267.9 ] Nympheae tetragona Georgi.
97. [ -2022.7 -275.1 ] Chuanminshen viloaceum Sheh et Shan
98. [ -2039.3 -287.7 ] Weighttree = Sinojackia xylocarpa Hu.
99. [ -2064.0 -293.6 ] Ulmus elongata LK.Fu et CS.Ding
100. [ -2069.2 -311.7 ] Chinamomum micranthum (Hay.) Hay

Taiwan
101. [ -1787.9 91.7 ] Bretschneidara sinensis Hemsi
102. [ -1784.3 123.8 ] Magnolia zenii Cheng
103. [ -1789.0 134.4 ] Frankenia pulverulenta L.
104. [ -1777.0 154.9 ] Rockrose = Helianthemum songaricum Schrenk.
105. [ -1790.6 149.2 ] Kylin tortise = impressed tortoise
106. [ -1782.0 169.0 ] Stilpolepsis Centiflora
107. [ -1779.2 176.4 ] Chocolate Hill
108. [ -1756.4 181.4 ] Haloxylon Persicum Bunge ex. Boiss Et Buhse
109. [ -1742.2 182.4 ] Rhododendron liliiflorum Levl.
110. [ -1742.7 150.3 ] Pterostyrax psilophyllus Disls experk
111. [ -1781.7 239.5 ] Whooper (Big) Swan

Near Semarang
112. [ -1674.5 295.1 ] Deianthe Caerula Stapf
113. [ -1587.1 368.7 ] Camllia grijsii Hamce
114. [ -1595.6 389.5 ] "Disanthus cercidifolius var, longpipes HT.Chang
115. [ -1610.2 419.3 ] Morus macroura Miq.
116. [ -1607.0 441.0 ] Cheilotheca Macrocarpa
117. [ -1613.7 451.5 ] Leymus racemosus (Lam.)Tzvel
118. [ -1625.9 457.0 ] Magnolia Henri Dunn.


END of Level 5

enjotabe

Admin




Posts

: 36


Join date

: 2009-09-18


Age

: 50


Location

: Tavernes



LEVEL 6


Goal:Train to Maneuverability Lvl 61

ATTN : Once you get 61 Maneuv, there will be NO MORE EXP unless you upgrade / rebuild to a LvL 7 Raider ship.

Requirements: Maneuverability : Lvl 51 and above
Ship : Lvl 6
Telescope : Lvl 5 – "Highwind"


Suggested number of sailors : 15 - 25


Coordinates


Reykjavik / Oslo
1. [ 449.0 -864.6 ] Vatnajokull
2. [ 378.1 -842.9 ] Sea Scorpion = Giant Father-lasher
3. [ -85.2 -936.2 ] Artic Hare
4. [ -72.4 -930.2 ] Beluga -- in artic pole
5. [ -82.8 -915.3 ] Artic Salangane -- Artic side of Oslo
6. [ -49.3 -886.9 ] Lemming -- Atric side of Oslo
7. [ -19.9 -707.5 ] Tetracentron sinense Oliv. -- next to Oslo

Stockholm
8. [ -334.9 -741.5 ] St. Petersburg
9. [ -287.3 -737.7 ] Tetraena Mongolica
10. [ -154.9 -674.7 ] Manglietia Szechuanica Hu. -- just off Baltic Sea BF
11. [ -169.5 -821.1 ] Tetrameles nudiflora R.Br.
12. [ -119.8 -612.5 ] Pemphis Acidula JR.Forst.et G.Forst

Hamburg / Amsterdam
13. [ 1.5 -654.1 ] Dipelta Floribunda
14. [ 116.6 -529.0 ] Myricaria laxifflora (Franch.) PY .Zhang et YJ.Zhang.
15. [ 144.4 -505.1 ] Musee du Louvre

London
16. [ 158.4 -529.8 ] Tower of London
17. [ 194.8 -649.0 ] Rhododendron dendrocharis
18. [ 217.5 -612.3 ] Phyllodoce caerulea(L.)Babingt.

Bordeaux
19. [ 197.0 -374.9 ] Reevesia Pubescens Mast.

Entry of Gibraltar Strait
20. [ 185.5 -263.3 ] Coral

Barcelona / Mallorca / Genoa / Sicily
21. [ 141.5 -305.7 ] Old City of Salamanca
22. [ 122.5 -295.7 ] Machilus kusanoi
23. [ -75.2 -314.4 ] St. Peter's Cathedral
24. [ -121.4 -295.8 ] City of Pompeii

Constantiople / Cyprus / Beirut
25. [ -310.2 -313.9 ] Hagia Sophia = St. Sofia Cathedral
26. [ -283.2 -288.4 ] Agkistrodon bilineatus = viperidae
27. [ -391.0 -217.8 ] The Site of Paphos
28. [ -420.0 -161.5 ] Ancient City of Kabbas = Kasbah of Algiers
29. [ -386.3 -134.3 ] Temple of Luxor

Tripoli
30. [ -1.8 -205.7 ] Punic Town of Kerkuane and its Necropolis
31. [ -34.4 -177.6 ] Sitta Ledanti
32. [ 295.8 -181.7 ] Changium smyrnioides Wolff.

Las Palmas
33. [ 357.2 -152.6 ] Feresa Attenuata = Small Grampus -- just south west of Seville
34. [ 403.3 -49.1 ] Rhodendron Hunnewellianum Rdhd. et Wils

Dakar
35. [ 382.1 265.5 ] Potaninia mongolica Maxim.
36. [ 169.9 305.9 ] Rhododendron Calophytum Franch.

Accra
37. [ 144.0 302.3 ] Double horn chameleon = Chamaeleo monium
38. [ 9.4 323.2 ] Four horns chameleon = Chamaeleo quadricornis

Luanda
39. [ 2.8 423.8 ] Rose
40. [ -37.6 477.3 ] Dipentodon sinicus Dunn.
41. [ -46.4 603.3 ] Canarium Subulatum Guill.
42. [ -67.8 807.3 ] Trachycarpus nana Becc.

Cape Town
43. [ -160.5 973.6 ] Platanthera japonica (Thunb.)Lindl.
... [ -227.0 990.7 ] Cattle Aigret

Afro-Asian Outer Coast
44. [ -359.2 905.5 ] Adelie Penguin
45. [ -373.6 859.5 ] Glehnia Littoralis F.Schmidt ex Miq.
46. [ -403.2 813.4 ] Alaotra Grebe

Mozambique
47. [ -480.8 669.2 ] Tacca Chantrieri Andre.
48. [ -522.5 793.0 ] Cymbidium spp.
49. [ -517.1 815.0 ] Madagascar Saw tail iguana
50. [ -588.9 837.2 ] Carpet Chameleon
51. [ -606.5 635.8 ] Pellacalyx Yunnanensis Hu.
52. [ -470.9 540.0 ] Arrow bamboo
53. [ -487.9 471.1 ] Africa giant lizard(Varanus albigularis)
54. [ -530.2 417.2 ] Sinowilsonia henryi

Mogadishu
55. [ -624.7 321.9 ] Butterfly fish
56. [ -624.0 317.9 ] Yellow peony(var. lutea Finet et Gagnep)
57. [ -651.1 228.8 ] Tamarix taklamakanensis MT.Liu.
58. [ -624.5 211.7 ] Ammopiptanthus mongolicus (Ma-xim.) Cheng f.

Suez
59. [ -442.5 89.2 ] Calanthe tricarinata Lindl
60. [ -374.3 -80.8 ] Rhododendron triflorum Hood .f.
61. [ -397.5 -85.1 ] Coptis deltoidea CY.Cheng et Hsial.

Aden
62. [ -543.3 190.7 ] Rock-hewn Churches of Lalibela
63. [ -593.5 188.4 ] Herba Cistanches

Muscat
64. [ -720.2 125.4 ] Camellia chrysantha (Hu) Tuyama
65. [ -798.7 22.8 ] Gleditsia Vestita Chun
66. [ -725.9 -24.5 ] Chinese goldthread

Basra
67. [ -618.9 -76.0 ] Mussaenda Hossei Craib.
68. [ -704.8 -61.5 ] Tchogha Zanbil
69. [ -846.9 -27.4 ] Rhododendron Viali Delavey et Franch.

Bombay
70. [ -906.6 -0.4 ] Actinidia Chrysantha CF.Liang.
71. [ -933.2 9.4 ] Lahore Fort
72. [ -1013.0 119.2 ] Pometia tomentosa(Bl.)Teysm. et Binn.
73. [ -1035.5 172.1 ] Boot leg tortise = Burnese Mountain Tortoise

Sri Lanka
74. [ -1075.1 263.9 ] Black tail Python = Indian python
75. [ -1176.5 278.3 ] Acontium hemsleyanum Var.Circinatum
76. [ -1158.0 146.2 ] Viperidae = Lachesis muta
77. [ -1177.6 82.6 ] Eastern diamondback rattlesnake

Melacca
78. [ -1204.9 60.3 ] Lingaraja Temple
79. [ -1295.1 56.8 ] Bengal python (Bengal Monitor)
80. [ -1328.2 98.7 ] Asian Black Bear
81. [ -1356.5 120.3 ] Rangoon Stupa
82. [ -1403.3 236.3 ] Garyota(Caryota) Urens L.
83. [ -1460.9 284.2 ] Osmanthus venosus Pampan

Tourane
84. [ -1477.1 222.6 ] Citrus hongheensys YLDL (Honghe papeda)
85. [ -1573.6 130.5 ] Town of Luang Prabang
86. [ -1532.4 54.8 ] Old Town of Lijiang
87. [ -1560.3 46.2 ] Leshan Giant Buddha

Quanzhou
88. [ -1614.6 36.3 ] Huang Long
89. [ -1637.1 58.4 ] Killer Whale
90. [ -1775.8 -112.0 ] Yellow Mountain
91. [ -1770.9 -122.7 ] Kirengeshoma palmata Yatabe
92. [ -1767.0 -152.0 ] Cinnamomum japonicum Sieb

Zhigu
93. [ -1761.4 -185.2 ] Macaca thibetana
94. [ -1752.6 -203.2 ] Tomb of Chu King of the Mountain Lion (Lion Hill Tomb of the Chu King)
95. [ -1776.5 -231.8 ] Lillium tsingtauense Gilg.
96. [ -1775.1 -252.7 ] Confucian Temple
97. [ -1741.8 -282.9 ] The Ming Tombs
98. [ -1749.3 -285.9 ] Assamese macaque

Seoul
99. [ -1868.5 -191.5 ] Michelia martinii(Levl.)Levl.

Nagasaki
100. [ -1892.3 -177.0 ] Blade fish = Shrimpfish
101. [ -1894.6 -212.7 ] Manglietia insignis
102. [ -1909.2 -315.5 ] Caltha palustris f. Rubriflora
103. [ -2094.3 -340.6 ] Giant pincer crab = giant spider crab
104. [ -1976.5 -179.9 ] Sandtiger Shark

Taiwan
105. [ -1768.4 -25.6 ] Cicatricle river stingray = Ocellate river stingray
106. [ -1782.8 -7.2 ] Alstonia Yunnanensis Diels.
107. [ -1752.7 8.3 ] Mountain Morrison
108. [ -1797.2 114.8 ] Leopard grain shark

South Sea islands
109. [ -1781.3 230.8 ] Antiaris toxicaria
110. [ -1797.1 268.5 ] D. chrysanthum
Semarang
111. [ -1850.7 264.9 ] Tropical nautilus = Nautilus Pompilius

Melacca
112. [ -1708.9 291.4 ] Rhododendron lutescens Franch
113. [ -1601.2 396.1 ] Knema furfuracea (Hook. f et Tho-ms.) Warb
114. [ -1399.9 356.2 ] Dragon(Giant) grouper
115. [ -1468.8 495.4 ] Changnienia amoena Chien.

Semarang
116. [ -1516.1 532.3 ] Monkey-tailed stink (lizard)
117. [ -1535.3 560.1 ] Nurse shark
118. [ -1705.7 534.5 ] Prambanan Temple Compounds
119. [ -1752.3 571.9 ] leixintegra Thunb
120. [ -1851.9 550.1 ] Pteroceltis tatarinowii
121. [ -2016.4 625.4 ] Phaius flavus Lindl.

END of Level 6

enjotabe

Admin




Posts

: 36


Join date

: 2009-09-18


Age

: 50


Location

: Tavernes



Level 7


Goal: Train to Maneuverability LvL 71

Requirements: Maneuverability : LvL 61 and above --

ATTN : If you haven't rebuilt / upgraded your ship to a LvL 7 Raider, you will NOT get Manuev EXP

Ship : LvL 7
Telescope : LvL 6 – "Nightingale"


Suggested number of sailors : 15 - 25

Coordinates


Alexander / Beirut
1. [ -215.0 -156.0 ] Seychelles culver = Streptopelia picturata rostrata
.. [ -221.8 -157.7 ] Chosenia arbutifolia (pall) a.skv
.. [ -264.8 -216.2 ] Paeonia Suffruticosa pap
2. [ -381.6 -139.6 ] Primula Purdomii Craib.
3. [ -441.1 -227.6 ] Moorhen = Gallinula chloropus sandvicensis
4. [ -441.3 -246.6 ] Stewartia sinensis Rehd.et Wils
5. [ -368.4 -241.1 ] Cypripedium Guttatum Sw.

Blacksea
6. [ -311.2 -340.8 ] Picea Neoveitchii
7. [ -322.9 -383.4 ] Acer MiaotaiensePC.Tsoong
8. [ -388.5 -428.3 ] Zantedescia Aethiopica (L.) Spreng
9. [ -409.3 -400.6 ] Lichee
10. [ -412.4 -425.8 ] Brown Pelican = Pelecanus occidentalis
11. [ -516.5 -337.1 ] Vanda
12. [ -380.9 -336.5 ] Cymbidium ensifolium

Venice / Genoa / Corsica
13. [ -135.5 -348.7 ] Cannon Flower
14. [ -125.6 -349.2 ] Red-faced cuckoo = Phaenicophaeus pyrrhocephalus
15. [ -45.5 -329.5 ] Sinofranchetia Chinensis (Franch.) Hemsl.
16. [ -7.2 -370.7 ] Fulica Americana Alai
17. [ 5.4 -345.3 ] Ide = Phoxinus cumberlandensis

Lisbon / Bordeaux
18. [ 325.4 -274.0 ] Lysimachia crispidens (Hance) Hemsl.
19. [ 315.0 -299.2 ] Pyrrhula pyrrhula murina
20. [ 198.9 -402.8 ] Melastoma Candidum.
21. [ 208.0 -453.5 ] Chub = Gila elegans

London
22. [ 198.6 -494.8 ] Asteropyrum Peltatum (Franch.) Drumm.et Hutch.
23. [ 279.2 -614.3 ] Canary Islands Oystercatcher = Haematopus meadewaldoi
24. [ 216.2 -585.3 ] "Malus Sieversii (Ledeb.) Roem,"
25. [ 217.4 -662.5 ] Myricaia Pulcherrima Batal.
26. [ 201.4 -670.0 ] Parrotia Subaequalis (HT.Chang)RM.Hao et HT.Wei
27. [ 178.1 -678.5 ] Silver Fish = Notropis mekistocholas
28. [ 174.9 -593.6 ] Goshawk = Accipter gentilis

Amsterdam / Hamburg
29. [ 94.2 -557.9 ] Tringa guttifer
30. [ 17.4 -649.7 ] Paphiopedilum armeniacum SC.Chen et FY.Liu.

Oslo / Stockholm
31. [ -39.0 -679.0 ] Eberhardtia aurata = pierre ex Dubard
32. [ -24.2 -625.1 ] Glycine soja Seib.et Zucc.
33. [ -133.7 -780.5 ] Mallard = Anas oustaleti
34. [ -140.1 -799.1 ] Oryza officinalis Wall.ex Watt
35. [ -260.4 -874.3 ] Camillia sinensis var. assasmica (Mast.)Kitam
36. [ -264.5 -746.2 ] Snow Lotus = Pure White Lotus
37. [ -210.6 -679.4 ] Trillium tshonoskii

Seville
38. [ 285.4 -198.4 ] Malconotus alius

Las Palmas
39. [ 343.0 -112.3 ] Cephalanthera Erecta
40. [ 419.0 -28.9 ] Colinus virginianus ridgwayi
41. [ 443.7 11.5 ] Tapiscia Sinensis Oliv.

Dakar
42. [ 451.1 86.4 ] Ammodendron bifolium (Pall.)Yakovl.
43. [ 453.1 160.5 ] Cinnamomum mairel Levl.
44. [ 412.6 238.3 ] Heritiera Littoralis Dryand
45. [ 375.5 278.3 ] Prunus cerasifera Ehrhart
46. [ 306.0 325.9 ] Dipterocarpus retusus B1

Accra
47. [ 219.3 320.4 ] Paphiopedilummicranthum Tang et Wang.
48. [ 183.3 306.6 ] Celtis Wightii Planch.
49. [ 147.3 305.1 ] White-breasted guineafowl (keet)
50. [ 80.7 305.6 ] Oryza Granulata Nees et Arn.ex Hook.f
51. [ 24.7 315.2 ] Syringa Pinnatifolia Hemsl.
52. [ 11.5 399.4 ] Magnolia Sinensis (Rehd.et Wils.) Stapf.

Luanda
53. [ -34.4 458.4 ] Satyrium ciliatum Lindl.
54. [ -60.8 527.2 ] Plieone bulbocodioides
55. [ -61.4 570.6 ] Victoria Falls
56. [ -38.9 633.2 ] Michelia Fiogo
57. [ -27.7 664.3 ] Water Chesnut Back Tortise = Bagatur Baska -- or -26.3 659.2 or -29 668

58. [ -56.5 734.2 ] Nyssa Sinensis

Cape Town
59. [ -191.0 995.1 ] Trachurus japonicus

Mozambique
60. [ -414.4 733.5 ] Africa Bebrormis sechellensis
61. [ -439.7 698.4 ] Bannerman's Turaco = Tuaraco bannermani
62. [ -493.2 652.0 ] Christmas Island Frigatebird = Fregata andrewsi
63. [ -484.4 613.0 ] Haloxylon ammodendron (CA Mey.) Bunge

Madagascar
64. [ -570.6 835.3 ] Mauritius bulbul = Hypsipetes borbonicus olivaceus
65. [ -611.6 804.4 ] Madagascar Sea Vulture = Haliaeetus vociferoides
66. [ -618.1 782.0 ] Madagascar pochard = Aythya innotata

Mozambique
67. [ -527.1 417.6 ] Holcoglossum

Bombay
68. [ -1062.0 221.0 ] Myristica fragrans

Sri Lanka / Malacca
69. [ -1129.4 261.1 ] F.taipaiensis
70. [ -1150.0 178.1 ] Gavial = Gavialis gangeticus
71. [ -1338.7 330.7 ] Podophyllum hexandrum
72. [ -1406.1 433.4 ] Tall gastrodia

Semarang
73. [ -1517.5 513.7 ] Litseaauriculata Chien et Cheng.
74. [ -1539.2 561.2 ] Magnolia amoena Cheng.
75. [ -1694.0 579.6 ] "Magnolia Sieboldii K. Koch,"

Australia -- Norfolk Island
76. [ -1824.6 578.5 ] Zosterops Albogualris

Small island near Semarang
77. [ -1733.0 493.0 ] Corydalis limearioides Maxim.

In the islands far off Malacca
78. [ -1713.5 370.1 ] Ulmus lamellosa T.Wang

Islands near Hainan
79. [ -1769.1 294.0 ] Melliodendron Xylocarpum Hand.
80. [ -1786.8 274.9 ] Skink = Leiolopisma telfairi
81. [ -1785.1 249.1 ] Plantanthera Mandarinorum Rchb.f
82. [ -1782.3 221.5 ] Ploughshare Tortoise = Geochelone yniphora
83. [ -1803.9 207.4 ] Phillipine crocodile = Crocodylus novaeguineae mindorensis
84. [ -1775.6 193.0 ] Roseate Tern = Sterna dougalli dougalli

Taiwan
85. [ -1787.4 130.6 ] Phillipine Cuckoo-dove = Red Turtle Dove
86. [ -1773.9 82.8 ] Syrmaticus humaie
87. [ -1748.2 93.4 ] Long-tailed Ground-Roller = Uratelornis chimaera
88. [ -1730.2 122.7 ] Oriental White Stork = Asian White Crane
89. [ -1736.2 172.8 ] Crimson-mantled (Red back) Woodpecker

Tourane / Malacca
90. [ -1577.4 365.6 ] Hammerhead Shark = Sphyrna couardi Cadenat.
91. [ -1484.0 309.2 ] Rhododendron Davidii Franch.
91. [ -1466.8 286.7 ] Gmelina arborea Roxb.
92. [ -1440.7 257.0 ] Emmenopterys henrii Oliv.
94. [ -1441.7 225.6 ] Shorea assamica Dyer.
94. [ -1451.6 207.9 ] Glycyrrhixa Inflata Batalin
96. [ -1471.8 218.3 ] Calligonum Pumilum A.Los
97. [ -1511.5 243.3 ] Ltea Parviflora Hemsl.
... [ -1538.6 251.3 ] Rhincodon Typus
98. [ -1558.6 237.9 ] Fraxinus sogdiana Bunge
99. [ -1581.3 223.3 ] Ha Long Bay
100. [ -1590.6 203.3 ] Honeyeater = Meliphaga cassidix
101. [ -1589.3 165.1 ] Kolkwitzia amabilis

Tourane / Quanzhou
102. [ -1544.1 98.1 ] Xanthoceras sorbifolia Bunge
103. [ -1526.9 65.7 ] Arundia Gaminifolia (D.Don) Hochr
104. [ -1554.7 51.3 ] Sturgeon
105. [ -1570.3 53.8 ] Parakmeria Yunnanensis
106. [ -1564.3 81.2 ] Catfish
107. [ -1585.9 70.9 ] Litsea killenifolia PY.Pai et PH.Huang.
108. [ -1592.0 57.3 ] Asesculus Wangii Hu.
109. [ -1603.7 43.0 ] Clerodendron tibetanum CY.Wu et SK.Wu.
110. [ -1625.2 29.8 ] Cypripedium tibeticum
111. [ -1653.8 30.6 ] Batfish
112. [ -1682.6 15.8 ] Great Pied Hornbill = Buceros bicornis
113. [ -1707.5 12.1 ] Hexagrammos otakii
114. [ -1710.3 3.6 ] Wulingyan

Taiwan
115. [ -1751.1 10.1 ] Magnolia wilsonii (Finet et Gagnep.) Rehd.
.... [ -1751 -50.5 ] Sunbird = Nectarina prigoginei
116. [ -1773.7 -23.0 ] Skylark = lark
117. [ -1763.8 -13.3 ] Kagu = Rhynchetos jubatus

On the sea near Quanzhou
118. [ -1769.3 -66.4 ] Archerfish = Taxotes jaculator

Quanzhou / Zhigu
119. [ -1768.0 83.5 ] Oriental Magpie Robin = Copsychus sechellarum
120. [ -1772.9 -111.0 ] White Camellia
121. [ -1768.3 -131.1 ] Actinidiachinensis planch
123. [ -1773.0 -143.8 ] Rhododendron Eillonii Hemsl.et Wils.
123. [ -1765.2 -155.3 ] Black Neck Tyrannidae = Empidonax eulerijohnstonei
124. [ -1768.7 -187.4 ] Angelfish = Pterophyllum Scalare
125. [ -1756.9 -192.4 ] Pygmy Parrot = Micropsitta pusio
126. [ -1756.2 -211.9 ] Sailfish
127. [ -1768.6 -224.1 ] Cerasusyunnanensis (Franch)
128. [ -1766.2 -253.5 ] Pogonia Japonica Rchb.f
129. [ -1750.0 -248.0 ] Pitta
130. [ -1723.7 -252.8 ] Platycrater Arguta
131. [ -1718.6 -258.0 ] Eider ducks = Somateria fischeri
132. [ -1740.0 -282.2 ] Eremosparton songoricum (Litv.)Vass.

Seoul / Japan
133. [ -1803.3 -288.4 ] Plover
134. [ -1808.4 -256.9 ] Common Angelfish = Pterophyllum Scalare
135. [ -1821.2 -251.7 ] Dendrobium hancockii Rolfe.
136. [ -1843.8 -244.5 ] Calycanthus Chinensis Cheng et SY.Chang.
137. [ -1839.9 -227.7 ] Blue Shark = Nepenthes albomarginata
138. [ -1905.5 -222.2 ] Trout = Salmo playtcephalus
139. [ -1899.0 -223.6 ] Tiger Beetle
140. [ -1866.1 -296.2 ] Delta Green Ground Beetle = Elaphrus viridis
141. [ -1911.7 -314.4 ] Valley elderberry longhorn beetle = Desmocerus californicus dimorphus

142. [ -1975.9 -257.2 ] Tanakia tanago
.... [ -1997.8 -220.9 ] Nipponia Nippon
143. [ -1949.1 -247.6 ] Carp (cyprinoid)
144. [ -1902.0 -169.8 ] Cymbiduum goeringii Var.serratum(Schitr.)Y.S.Wuet S.C.Chen.
145. [ -1907.0 -145.3 ] Olive Ridley Sea Turtle = Lepidochelys olivacea
146. [ -1928.2 -197.4 ] Tooth Cave Spider = Neoleptoneta myopica
147. [ -1941.7 -193.3 ] Tuatara = Sphenodon guntheri
148. [ -1966.7 -215.4 ] Guam Broadbill = Myaigra freycineti


END of Level 7

enjotabe

Admin




Posts

: 36


Join date

: 2009-09-18


Age

: 50


Location

: Tavernes



Level 8

Goal: Train to Maneuverability LvL 81

Requirements: Maneuverability : LvL 71 and above
Ship : LvL 8
Telescope : LvL 7 – "Dawn"


Suggested number of sailors : 20-30

Coordinates

Northern Coast of Norway
1. [ -43.4 -875.8 ] Sorolepidium Glaciale

Oslo / Stockholm
2. [ -117.5 -694.4 ] Orchis
3. [ -175.1 -626.8 ] Mammuthus primigenius
4. [ -16.5 -604.0 ] Phalaenopsis. spp

Scotland
5. [ 165.8 -587.3 ] St. Martins Church
6. [ 232.8 -651.0 ] Musical cave -- sparkles may take a while to show

Lisbon / Bordeaux
7. [ 313.0 -323.9 ] Propalaeotherium parvulum

Seville / Athens
8. [ 17.0 -324.0 ] Fuchsiahybrida
9. [ -139.4 -344.7 ] Dermochelys Coriacea Linnaeus
10. [ -194.0 -281.0 ] Proteus Anguinus Laurenti -- North of Athens
11. [ -227.7 -296.1 ] Cachalot = Physeter catadon

Black Sea
12. [ -310.3 -322.6 ] Bottlenose dolphin = Tursiops truncatus
13. [ -322.4 -383.3 ] Acer miaotaiensePC.Tsoong
14. [ -485.1 -381.6 ] Amentotaxus Yunnanensis Li.
15. [ -451.6 -332.2 ] Calocedrus Macrolepis Kurz.

Constantiople / Tripoli
16. [ -406.0 -217.7 ] St. Lazarus Church -- Near Cyprus Island
17. [ -397.8 -132.8 ] Xenopus Laveis -- east of Alexander
18. [ -145.2 -123.3 ] Discoglossidae

Gib Channel
19. [ 266.6 -217.7 ] Japonica

Las Palmas
20. [ 409.1 -43.0 ] Ophioglossum thermale Kom

Dakar / Accra
21. [ 398.2 250.8 ] Aardvark = Perissodactyla
22. [ 386.6 262.1 ] Sphaeropteris Lepifera
23. [ 272.1 323.2 ] Cystoathyrium Chinense
24. [ 213.7 320.3 ] Phyllitis japonica

Accra / Luanda
25. [ 118.1 303.1 ] Trichobatrachus robustus
26. [ 90.0 300.4 ] African Megalotis
27. [ 11.5 406.8 ] Hipposideros = Africa Hipposideros caffer.
28. [ -4.2 429.6 ] Leptopelis natalensis
29. [ -59.8 529.6 ] Pleione bulbocodioides

Luanda / Cape Town
30. [ -37.4 639.9 ] Hypericum monogynum L
31. [ -72.2 773.5 ] Lysimachia grammica Hance
32. [ -71.5 826.5 ] Hyrax = Hyracoidae
33. [ -128.0 928.6 ] Africa Hyena
34. [ -138.2 938.2 ] Diospyros lotus linn
35. [ -213.3 988.2 ] Heleophryne purcelli

Cape Town / Mozambique
36. [ -410.1 794.1 ] Gelada Baboon = Theropithecus gelada
37. [ -414.7 740.8 ] Setifer Setosus
38. [ -422.3 709.6 ] Geogale aurita
39. [ -465.6 690.1 ] Flying Colugos = Cynocephalus volans

Mozambique / Mogadishu
40. [ -478.5 591.1 ] Pteropus Poliocephalus
41. [ -475.9 555.5 ] Ruffed Lemur = Lemur variegatus
42. [ -472.6 535.2 ] Crossley's Greater Dwarf Lemur = Cheirogaleus major
43. [ -542.9 410.6 ] Slow Laris = Nycticebus coucang
44. [ -585.5 379.4 ] Western needle-nailed bushbaby = Euoticus elegantulus
45. [ -615.1 347.7 ] Black lip pika = Ochotona curzoniae

Aden / Muscat
46. [ -729.3 109.3 ] Sumatra Rhinoceros = Dicerorhinus sumatrensis
47. [ -775.8 66.4 ] Sewellel = Aplodontidae
48. [ -797.9 29.7 ] Eutamias sibiricus

Muscat / Basra
49. [ -764.3 -1.7 ] Pedetes Capensis
50. [ -743.4 -21.1 ] Larix Chinensis Beissn
51. [ -717.4 -18.5 ] Trigonobalanus
52. [ -686.4 -14.5 ] Cathaya Argyrophylla
53. [ -657.6 -29.5 ] Pinus Bungeana
54. [ -620.4 -69.3 ] Berringtonia Asiatica
55. [ -615.6 -94.9 ] Magnolia Liliflora

Basra / Bombay
56. [ -652.7 -113.6 ] Cryptomeria Fortunei Hooibrenk
57. [ -678.1 -82.0 ] Sabina Chinensis
58. [ -722.1 -53.8 ] Platycladus Orientalis
59. [ -783.6 -38.6 ] Podocaarpus Macrophyllus

Muscat / Bombay
60. [ -876.2 -13.1 ] Magnolia Grandiflora L.
61. [ -940.9 24.5 ] Illicium Lanceolatum
62. [ -970.2 68.4 ] Liriodendron Chinense

Bombay / Sri Lanka
63. [ -1019.8 134.0 ] Viola concordifolia CJ.Wang
64. [ -1107.8 257.2 ] Chickweed
65. [ -1104.1 262.1 ] Stellaria Media (Linn.) Cyr.

Sri Lanka
66. [ -1132.6 299.2 ] Herba Alternatherae
67. [ -1141.0 317.5 ] Achyranthes Bidentata Bl.
68. [ -1160.7 303.8 ] Chenopodium glaucum Linn.
69. [ -1169.1 259.2 ] Gavial = Gavials. Gavialidae
70. [ -1143.4 240.2 ] Viola grypoceras A. Gray

Sri Lanka / Malacca
71. [ -1145.8 190.3 ] Phoenix Tree
72. [ -1162.0 161.1 ] Grey whale = Eschrictius robustus
73. [ -1170.8 129.4 ] Paeonia actiflora Pall
74. [ -1185.7 74.6 ] Polygonum lapathifolium Linn.
75. [ -1238.5 45.0 ] Polggonum multflorum thunb
76. [ -1327.5 92.9 ] Equus hemionus
... [ -1330.4 108.0 ] mamba
77. [ -1363.4 124.1 ] River Pig
78. [ -1370.8 128.4 ] Ophiphagus hannash
79. [ -1393.4 174.0 ] Pygmy Hog

Island near Mallacca
80. [ -1477.5 408.9 ] Xenopeltis unicolor
81. [ -1538.5 434.5 ] Southern right whale -- kinda on a player trade route Semarang<>Melacca

Malacca / Tourane
82. [ -1493.5 363.5 ] Casarea Dussumieri = Cylindrophis maculatus
83. [ -1492.9 344.2 ] Eryx Miliaris = Casarea Dussumieri
84. [ -1488.1 332.9 ] Helarctos malayanus
85. [ -1521.3 247.9 ] Red sand Python = Eryx miliaris
86. [ -1587.7 217.9 ] Ulmus Parvifolia Jacq.
87. [ -1590.8 207.2 ] Leptotyphlops goudotii
88. [ -1593.8 176.9 ] Cetis Sinensis
89. [ -1584.4 152.7 ] Ronspholylles ??? couldn't find this, anyone else?
90. [ -1583.1 147.8 ] Ramphotyphlops braminus
91. [ -1581.7 147.0 ] Broussonetia papyrifera (Linn.) Vent.

Tourane / Quanzhou
92. [ -1566.2 114.1 ] Ficus Carica Linn
93. [ -1543.3 96.8 ] Chelidae longicollis
94. [ -1538.7 91.0 ] Carya Illinoinensis (Wangh.) koch.
95. [ -1527.7 73.8 ] Pterocarya stenoptera C.DC.
96. [ -1545.1 45.5 ] Quercus acutissima Carruth.
97. [ -1562.9 47.0 ] Rhacophorus nigropalmatus
98. [ -1578.5 71.6 ] Castanopsis sclerophylla (Lindl.)
99. [ -1572.5 86.5 ] Platysternon Megacephalum
100. [ -1595.0 90.4 ] Ridley Sea Turtle

Island east of Tourane
101. [ -1730.0 105.6 ] Nandina Domestica
102. [ -1732.4 135.4 ] Hydrosaurus postulatus
103. [ -1737.3 142.2 ] Corydalis Decumbens (Thunb.) Pers.
104. [ -1739.1 157.4 ] Chanmaeleo jacksonii
105. [ -1739.4 177.8 ] Trogonophis wiegmanni
106. [ -1770.4 191.7 ] Distylium Racemosum Sieb. et Zucc.

Island near Quanzhou
107. [ -1778.5 -89.8 ] Monocentris japonica

Zhigu / Seoul
108. [ -1743.4 -242.6 ] Semiaquilegia Adoxoides (DC) Makino
109. [ -1776.2 -288.2 ] Wresses - Labroides dimidiatus

North of Nagasaki
110. [ -1890.0 -251.6 ] Houttaynia Cordata
111. [ -1903.0 -306.7 ] Phoebe Sheareri
112. [ -1962.7 -359.7 ] Cinnamomun Camphcra
113. [ -2031.3 -395.6 ] Sooglossidae
114. [ -2048.5 -420.7 ] Tylototriton Verrucosus
115. [ -2065.4 -453.8 ] Salamandrello keyserlingii
116. [ -2053.3 -289.4 ] Japan Hyla japonica

Edo / Nagasaki
117. [ -2098.5 -258.9 ] Japan Andrias Japonicus
118. [ -2040.4 -241.5 ] Wild Camel
119. [ -1987.3 -213.0 ] Pygmy Hippopotamus
120. [ -1935.9 -213.2 ] Torreya nucifera
121. [ -1928.9 -158.5 ] Pinus Parviflora Sieb. et Zucc.



END of Level 8

enjotabe

Admin




Posts

: 36


Join date

: 2009-09-18


Age

: 50


Location

: Tavernes



Level 9

Goal: Train to Maneuverability LvL 91

Requirements: Maneuverability : LvL 81 and above
Ship : LvL 9
Telescope : LvL 8 – "Dark Pupil"

Suggested number of sailors : 25 - 35


Coordinates

Black Sea:
1. [ -356.0 -328.0 ] H. microcephala YL Chen
2. [ -407.7 -337.9 ] Lumnitzera littorea
3. [ -512.6 -356.9 ] Calycopteris floribunda
4. [ -470.7 -438.3 ] You;takien-nu;ram. Anogeissus (you)
5. [ -404.8 -400.4 ] Monimopetalum chinense Rehd.
6. [ -350.3 -420.8 ] Bhesa sinensis
7. [ -318.8 -373.3 ] Psammosilene tunicoides

Med:
8. [ -221.1 -274.8 ] Cygnus olor >not_found< -- or -216.3 -278.0
9. [ -244.9 -207.3 ] Picoides major Greater Pied
10. [ -187.2 -158.1 ] Cedarbird = Bombycilla cedrorum
11. [ -168.7 -308.9 ] Heteroplexis decora Kurz
12. [ -12.0 -217.5 ] Medina of Sousse
13. [ -13.2 -264.3 ] Tugarinovia mongolica

Lisbon / Bordeaux:
14. [ 318.4 -354.3 ] Taraktogenos annamensis Gagrep.

Near Oslo:
15. [ 54.9 -582.0 ] Speyer Cathedral
16. [ -6.5 -618.6 ] Gymnocarpos Przawalskii Maxim
17. [ -8.8 -638.4 ] Ptarmigan
18. [ 21.8 -688.0 ] Ousel = Turdus merula

England:
19. [ 186.0 -637.2 ] Deutzianthus tonkinensis
20. [ 186.6 -679.2 ] Castanopsisrex (Hemsl.) Schott.
21. [ 265.6 -624.4 ] Castanopsis kawakamii Hayata

Dakar to Accra:
22. [ 433.4 -7.8 ] Homaliumlaocticum var. glabratum CY. Wu
23. [ 457.2 136.6 ] Macrodipteryx Lngipennis = Dionea muscipula Soland. ex

Ellis
24. [ 435.5 207.3 ] terocles exustus
25. [ 324.4 315.6 ] Anthropoide Sparadiseus

Accra to Luanda:
26. [ 1.6 359.5 ] Casuarius

Near Capetown:
27. [ -170.7 982.1 ] Acryllium vulturinum

Capetown to Mozambique:
28. [ -395.5 819.3 ] Waxbill = Estrilda astrild
29. [ -411.4 783.5 ] Tree Sparrow
30. [ -412.4 762.9 ] Oriolus chinensis
31. [ -429.4 701.9 ] myna
32. [ -471.7 683.3 ] Australian Magpie = Gymnorhina tibicen
33. [ -482.3 654.6 ] Cyanoopica Cyana

Mozambique to Mogadishu:
34. [ -484.1 609.5 ] crested ibis
35. [ -484.2 616.8 ] ?? (if someone finds the name of this, pm me and I will fix it)
36. [ -476.4 578.9 ] pig-tailed macaque
37. [ -478.8 552.9 ] teinopalpus aureus
38. [ -473.3 515.9 ] presbytis phayrei
39. [ -481.7 497.1 ] Aguila chrysaetos
40. [ -486.8 483.5 ] hylobates hoolock
41. [ -496.0 459.7 ] Serilophus lunatus
42. [ -499.4 443.9 ] indian bullfrog = Rana tigrina
43. [ -514.6 423.6 ] otus bakkamoena
44. [ -555.8 405.3 ] psittacula derbiana
45. [ -566.2 394.9 ] osteolaemus tetraspis
46. [ -597.1 370.3 ] parnassius apollo
47. [ -630.3 344.2 ] rhododendronsimsii
48. [ -624.0 302.0 ] Cephalomappasinensis (Chun et How) Kosterm.
49. [ -634.4 262.2 ] cleidiocarpon cavaleirei

Mogadishu to Suez:
50. [ -649.7 245.8 ] Oryza rufipogon griff.
51. [ -648.1 216.4 ] Qiongzhuea tumidinoda hsueh et Yi
52. [ -615.7 214.2 ] Chuniabucklandioides
53. [ -587.1 230.3 ] Semiliquidambar cathayensis
54. [ -551.9 226.2 ] Tetrathyrium subcordatum benth
55. [ -518.8 203.0 ] Otelia acuminata = Gagnep Dandy
56. [ -506.3 188.4 ] Annamocarya sinensis
57. [ -483.2 158.0 ] Juglans mandshurica Maxim
58. [ -464.1 118.6 ] Alseodaphne hainanensis Merr.
59. [ -423.5 74.3 ] Litsea killeniifolia
60. [ -421.4 19.4 ] Litsea pierrei var. szemois

Muscat to Bombay:
61. [ -884.6 -9.4 ] Takht-i-bahi
62. [ -921.8 4.4 ] Kuhl Lory. Vini kuhlii.
63. [ -938.0 16.2 ] Apus apus
64. [ -941.0 43.0 ] diploglossus rhinocrytidae
65. [ -965.4 62.7 ] kingfisher

Bombay to Sri Lanka:
66. [ -1007.5 116.5 ] swallow
67. [ -1029.3 163.0 ] renidae
68. [ -1063.7 232.7 ] red-billed leiothrix = leiothrix lutea
69. [ -1081.2 269.1 ] trochilus
70. [ -1135.7 242.6 ] remiz consobrinus
71. [ -1127.6 211.5 ] Tomtit = Parus major

Sri Lanka to Malacca:
72. [ -1153.6 165.2 ] tree creeper = Eurasian Treeceeper
73. [ -1307.8 74.0 ] ostrya rehderiana chun
74. [ -1376.4 140.4 ] heptacodium miconioides = Caprifoliceae
75. [ -1376.5 151.4 ] Hue, Vietnam
76. [ -1394.7 199.0 ] Crypteronia paniculata Bl = Paniculata
77. [ -1401.4 227.2 ] schoepfia jasminodora
78. [ -1405.0 266.5 ] Epetrum nigrum var japonicum K.Koch
79. [ -1419.6 296.4 ] Rhododendron fictolacteum Balf.f.
80. [ -1438.2 332.4 ] Rhododendron haematodes Franch

Near Quanzhou
81. [ -1735.5 98.5 ] Abies georgei
82. [ -1784.5 -21.8 ] Cycas Taiwaniana Carruth

Around Japan:
83. [ -1898.8 -201.5 ] betula halophila
84. [ -1935.1 -239.1 ] diplopanax stachyanthus hand.mazz
85. [ -1958.3 -240.4 ] s. prolificum (Chun et How) Tsiang
86. [ -1983.2 -267.1 ] oncodostigma hainanensis
87. [ -2016.3 -271.0 ] mangifera sylvatica
88. [ -2068.1 -308.8 ] Acer yangiuechi
89. [ -2061.6 -334.9 ] a. catalpifolium
90. [ -2070.0 -366.5 ] pseudotaxus chienii.
91. [ -2082.3 -387.1 ] podocarpus imbricatus
92. [ -2006.4 -376.3 ] dacrydium pectinata
93. [ -2021.1 -390.1 ] Podocarpus fleury Hickel
94. [ -2038.8 -403.6 ] Pseudotsuga forrestii Craib
95. [ -2062.4 -442.9 ] hydrobates pelagicus = Oceanodroma leucorhoa
96. [ -2071.6 -458.4 ] pinus wangii
97. [ -2072.9 -472.9 ] cycas pectinata giff.
98. [ -2099.6 -468.6 ] phalacrocorax melanoleucos
99. [ -2080.0 -503.0 ] cycas micholitzii
100. [ -2080.8 -519.1 ] Pinus massoniana var.hainanensis
101. [ -2097.3 -522.2 ] fish hawk
102. [ -2083.0 -538.7 ] picea aurantiaca
103. [ -2079.1 -555.8 ] Sagittarius Serpetarius =Sagittaridae

104. [ -2104.0 -542.0 ] picea smithiana
105. [ -2132.3 -559.1 ] mandarin duck
106. [ -2127.6 -504.8 ] scopidae
107. [ -2131.8 -475.8 ] balaeniceps rex
108. [ -2113.3 -440.6 ] black-crowned hight-heron
109. [ -2101.0 -397.5 ] wandering albatross = diomedea exulans
110. [ -2137.6 -398.0 ] gavia arctica
111. [ -2147.6 -371.3 ] eudyptes chrysolophus

enjotabe

Admin




Posts

: 36


Join date

: 2009-09-18


Age

: 50


Location

: Tavernes



level 10
Goal: Train to Maneuverability LvL 101
Requirements: Maneuverability : LvL 91 and above
Ship : LvL 9
Telescope : LvL 9 – "Starry Night"
Recommended: Golden Compass (Treasure -- Equipment type -- explore success +50%)
Suggested number of sailors : 30 - 45
Coordinates
Black Sea:
1. [ -324.7 -383.5 ] Garefowl = Great Auk
2. [ -388.4 -428.4 ] Daurian Destart
Athens / Venice / Corsica / Sicily / Barcelona
3. [ -168.5 -309.3 ] B. thaldina
4. [ -201.5 -259.0 ] R Gallus Gallus
5. [ -138.1 -299.9 ] Gyps hinalayensis -- south of Italy
6. [ -69.9 -259.6 ] Lophophorus Lhuysil
7. [ -36.7 -336.2 ] Short-tailed Albatross
8. [ 187.1 -254.8 ] Falco Cherrug
Beirut / Alexander / Tripoli / Algiers
9. [ -390.3 -133.1 ] Orchidantha chinensis
10. [ -116.4 -138.6 ] Coptis chinensis var.brevispala
11. [ -169.8 -150.6 ] Circaeaster agrestis Maxim
12. [ -17.4 -251.6 ] Hoopoe = Upupa epops
Seville / Lisbon
13. [ 117.1 -330.0 ] ptarmigan
14. [ 131.1 -254.1 ] Vanellus vanellus
15. [ 210.5 -219.1 ] Gyps benalensis
16. [ 321.0 -236.4 ] Anas Penelope
17. [ 49.2 -354.8 ] Dendrocygna
18. [ -228.8 -308.8 ] Asio Otus
19. [ -289.3 -258.9 ] Tarsiger Cyanurus
South of Oslo
20. [ -35.8 -649.3 ] white wolf
Seville / Lisbon
21. [ -793.1 15.1 ] Siam Deer
22. [ -742.3 -10.4 ] Horsfieldia pandurifoia Hu
23. [ -742.3 31.2 ] Nyssa yunnanensis
24. [ -706.8 -10.0 ] Manglietia megaphylla Hu
25. [ -653.8 -37.7 ] Manglietia grandis Hu
26. [ -643.1 -49.1 ] Malania cleifera
27. [ -632.7 -59.0 ] Manglietia aromatica Dandy
28. [ -617.7 -80.5 ] Officinal Magnolia
Basra - Bombay
29. [ -641.7 -119.9 ] Fraxinus
30. [ -661.3 -104.0 ] illcium Difengpi KIB. et KIM
31. [ -666.2 -94.8 ] Amoora dasyclada
32. [ -694.3 -70.1 ] Short-tailed Parrot
33. [ -733.0 -55.4 ] Crossptilon crosspliton
34. [ -747.5 -57.0 ] Manglietiastrum sinicum law M sinicum
35. [ -764.3 -54.0 ] Tadorna Ferruginea Pallas
36. [ -787.2 -38.6 ] Diplandriochis sinica
37. [ -803.8 -31.6 ] Manglietia patugensis
38. [ -825.7 -25.1 ] Taxila
39. [ -861.1 -26.8 ] Pakistan Desert Cat
40. [ -912.1 -1.5 ] Tangtsinia nanchuanica
41. [ -978.1 83.2 ] Chuniophoenix hainansis Burret
more in Almanac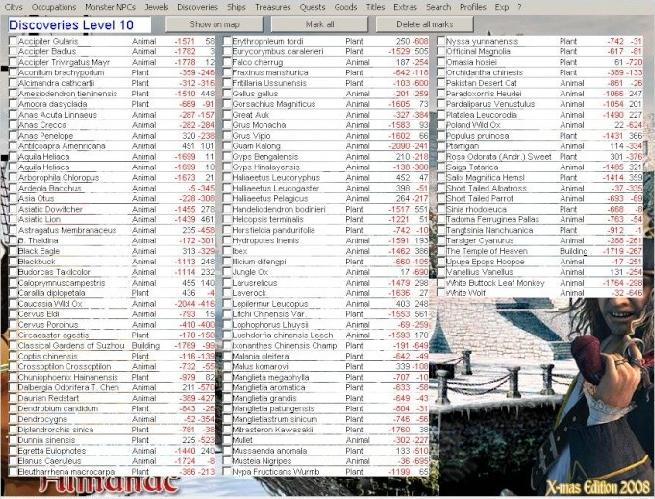 enjotabe

Admin




Posts

: 36


Join date

: 2009-09-18


Age

: 50


Location

: Tavernes




---
Permissions in this forum:
You
cannot
reply to topics in this forum