Till Yusho upgraded the game with the profesions you can get some new mats...
To get them you will need some profesion production skills...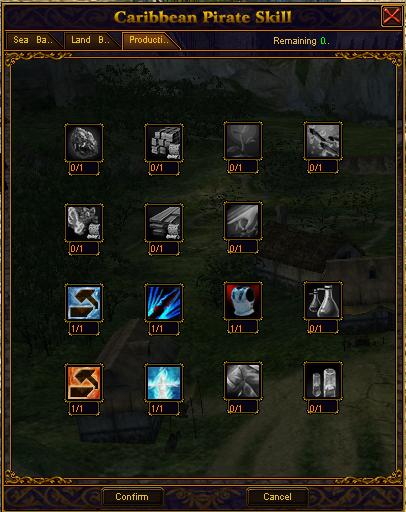 . METAL MINE KNOWLEDGE: to get new materials in metal mines...you can find them in Hurrican Island or buyin a mining pass and then talking with the NPC "Member of the Secret Da Vincy Society" in seville, athens and dont remember more. Needs learn mining skill almost till lv 1. You can get Tin ore, Coper Ore, Tungsten, Nikel Ore.
- NON METAL MINE KNOWLEDGE: Same than before, to get Salpetre, Sulphure, Coal.
- HARDWORD KNOWLEDGE: Same than before but needs lv 1 loggin...you can get Teak and Oak
. SOFTWOOD KNOLWLEDGE: Same than before to get pine and Fir.
- COLD WEAPOND MANUFACTURE: Needs foundry...and the draw...to produce new profesion weaponds like swords, falchions, axes.
- HOT WEAPONDD MANUFACTURE: Same for produce new profesions guns
- SHIP WEAPOND MANUF. Needs ship buiding lv 101.- To produce ship weaponds lv 101
- SHIP EQUIPMENT: Same to produce equipment lv 101
- TEXTILE KNOWLEDGE: Needs farming lv 1 to plant soft cotton 1 and soft cotton 2 and yuca, you can find the seds in Salinas, becarefull cos seems the same cotton but there are 2 diferents...thanks to yusho. And becarefull with vipers lol.
- FISHERY SKILL: Needs almost lv 1 fishing...and the only way to get it is buyin a fishing card and enter in "Secret da vincy society".- You can get white-black pearls and coral.
- HEAVY ARMOUR: Needs FOUNDRY...and the draw for make or repair suit-helmet from EG
- LIGHT ARMOUR : Needs SEWING...and the draw for make or repair all other profesion suits.
- MEDICAL MATERIAL: Still not needed for nothing. if im wrong pls tell me
- POTION PRODUCTION: Still not needed for nothing
- CHEMICAL PRODUCTION: Still not needed for nothing.
-----------------------------------------------------------------------------------
Once you get some new mats then you can go till seville, close the suburbs you can find a NPC called MATERIAL EXCHANGE STAFF.
Then click New material Exchange and you can get this...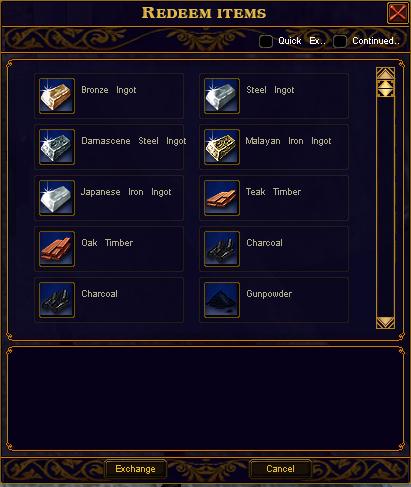 BRONZE LINGOT...you need: 10 tin ore.
10 fine cope ore.
10 Coal.
STEEL LINGOT......... 10 tin Ore
10 fine iron ore.
5 Charcoal
20 Coal
DAMASCENE LINGOT................................5 Tungsten
10 STEEL LINGOTS
10 Charcoal.
JAPANESE LINGOT........... 10 STEEL LINGOTS
50 charcoal
MALAYAN LINGOT ..................................................5 Nikel Ore
10 STEEL LINGOTS
10 Charcoal
TEAK TIMBER..............................10 Teaks
OAK TIMBER................................10 Oaks
CHARCOAL.......................2 Ways to get it..................1.- 3 pine or 2.- 1 Fir
GUNPOWDER.................5 Salpetre
5 Sulphure
5 Charcoal
ROPE..................................................500 yuca filamentosa
500 thrick soft cotton
FINE COTTON CLOTH............... 500 Trick soft cotton...from one group of the seeds
500 Trick soft cotton... from the second group of the seeds

---
Permissions in this forum:
You
cannot
reply to topics in this forum